Neighbour Power Inc. is a solar power consulting house providing solar PV design and engineering from coast to coast. Established in 2014 by Moustafa Youssef, Neighbour has spearheaded the development and design of some of the first grid-tied solar photovoltaic and electrical storage systems.
After completing his engineering degree at Dalhousie University, Moustafa Youssef worked as a measurement-while-drilling operator on drilling rigs across Central and Western Canada. During a vacation in Egypt he volunteered with a solar installation company tasked with replacing diesel-fired generators powering water pumps with solar farms.  He was impressed by the technology and more so after realizing how economical solar power has become. When he returned to Canada, Moustafa realized there is a bright future in solar PV and that it wasn't too late to change his career path. He resigned from his oil company and soon after started Neighbour.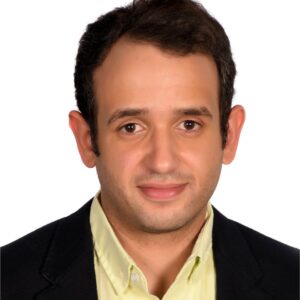 Today Moustafa specializes in developing and designing distributed solar photovoltaic and storage systems including electrical engineering, feasibility studies and project management. He developed and designed over three megawatts of solar PV generation capacity across Alberta and Saskatchewan including Saskatchewan's largest and first DC un-grounded three phase system.
Moustafa is the owner and CEO of Neighbour Power Inc. He is registered with the Association of Professional Engineering and Geoscientists of Alberta and frequently writes about solar and renewable energy in Alberta here.
Moustafa believes in a decentralized and renewable energy future and wants to build a company that facilitated local renewable power generation and distribution. Instead of relying on a few large fossil-fired generating facilities operating hundreds of miles away, Moustafa sees an energy future that depends on many smaller renewable generators closer to their source of consumption. Neighbour Power is dedicated to helping homes, business and farms develop solar power and electrical energy storage systems.
Bob Grace Grace Energy, Calgary, Alberta
Moustafa's work on the 400kW Golden View solar project was excellent. He was instrumental in his work & negotiations with Saskpower, much of which was adopted into Saskpower's Small Power Program.
Terry Orr, Calgary, Alberta
We just recently had a solar PV installed at our home and we could not be more happy with it. After emailing and talking to several different companies we chose Neighbour Power. Many of the companies took a long time to get back to us while Moustafa, the owner of Neighbour Power, got back to me right away. He gave me an email quote then followed up with a site visit and analysis of our house. He also answered all my questions clearly. I know quite a bit about solar and I found I caught the other companies unable to answer specific questions or they had to backtrack and give me a different answer after something they had told me. The installation team were professional, courteous and a fun group. Moustafa was there at each occasion to oversee things and direct the work. Finally, the company handled all the paperwork and permits including the government rebate and the whole process from start to finish went very smoothly. Now we are proud owners of our own micro generation solar system!
David Gusta nGAGE Networks, Edmonton, Alberta
Dear Moustafa,
It has been a pleasure dealing with you, and thanks for helping us realize our dream of reaching net‐zero with our power consumption needs. … [Neighbour Power] values the client relationship first, and continues to be a trusted resource for us after the system was installed. I would not hesitate to recommend you & your team of experts at [Neighbour Power] for anyone that is looking to offset their power bills with clean, renewable, solar energy.
Darvin Knorr, Calgary, Alberta
Thanks to Neighbour I am the very proud owner of a top-notch 4.92kW grid-tied system. [Neighbour Power] did a fantastic job of explaining my hardware choices, in helping  to design the right sized and type of system for my home solar power needs, in completing the technical drawings and in helping me to navigate the permitting and approval process. I look forward to many years of reliable solar power production and take comfort in [Neighbour Power]'s commitment to stand by what they sell.
Bill and Shiela Smith, Bassano, Alberta
This spring we decided to go solar to supplement our energy bill.  We searched for a solar company and decided on Solar Hero. When the project manager, Moustafa, came to our house he was very polite and informative. He gave us a free evaluation and information on the benefits of having panels installed and explained how the system worked in conjunction with our energy provider.  Thanks Moustafa  for laying out for us in terms we understood how the system would benefit us and then let us make our decision with absolutely no pressure applied.  After deciding to go ahead, he and his crew provided a timely installation with very little disruption to us.  We are very pleased and are looking forward to seeing the benefits we will acquire when we receive our bills. We will certainly contact Moustafa's company again to add on to this system if we decide to install more panels or any other projects of this nature.  Thanks again, Moustafa!
Bassem Zaki, Calgary, Alberta
We were thinking about going solar for a long time and Neighbour Power made it very easy for us to switch. Moustafa designed a 2kW system on our garage that has reduced our consumption from the grid by more than 25%.  He was very professional in all aspects of his work and a pleasure to deal with.